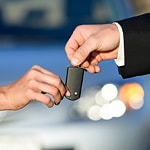 Deciding when to trade-in or refinance your vehicle can be tricky. There are so many factors to consider. Fortunately, our team at Grand Junction, CO Modern Classic Motors is here to simplify the process for you. Take a look.
Why You Should Refinance
If you want to keep your vehicle and get a new auto loan with a new interest rate, it's time to refinance. Do it with a new lender or your current lender. Since your evolving credit score changes your creditworthiness, consider refinancing your vehicle when your credit gets better. Refinancing can also result in a lower APR and overall lower monthly car payments.
Why You Should Trade-In
We recommend trading in your vehicle when you're ready to exchange it for another vehicle, new or used. Trade-in value isn't official, but KBB and NADA are widely used sources recognized across the industry. Ultimately, trade-in value is a dealer allowance that depends on a vehicle's make, model, the condition it's in, and its likelihood of selling to a new buyer.