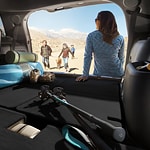 Whether you're getting to know Grand Junction, CO, and the surrounding area or taking off on a journey across America, a road trip can be a fun occasion for everyone involved. We here at Modern Classic Motors offer the following advice for keeping safe on your next over-the-road adventure.
Before departing on your trip, take the time to fully map out your route. Select your daily stops and overnight destinations with care and let a close friend or loved one know your itinerary before you leave. Make plans to check in with this person regularly throughout the trip as well.
Another critical task to take care of prior to hitting the road is ensuring that your vehicle is in good working order. You should have an expert inspect the tires, check the fluid levels and address any unresolved maintenance issues to avoid unnecessary delays and added expense later on.