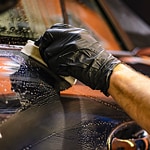 Modern Classic Motors knows how important it is for drivers in Grand Junction, CO to maintain a clean vehicle. There is no substitute for a professional detailing job, but regular trips to the detailer can be expensive. Here are a few car detailing tips you can use at home to do the job right.
The first thing you should do is invest in quality tools for detailing. This means better brushes, towels, and cloths. Less expensive tools can actually harm the finish of your vehicle and leave scratches - exactly the opposite of what you are trying to accomplish. The good news is that the better tools will last longer.
Focus on washing more and waxing less. A good wash every fortnight or so will keep down the road grime and make it easier to maintain a clean car. Too much waxing can actually break down the compounds of your car's finish.