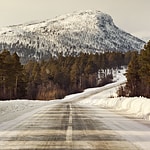 Every driver should take the time to create a winter survival kit. Hopefully, you will never need it, but finding yourself stranded without one can be dangerous. Modern Classic Motors wants to help you take steps to stay safe.
Staying warm will be your top priority. A good winter survival kit will include extra gloves, a hat, and even a blanket. It would also be wise to have some hand warmers in the kit. An extra cell phone charger should also be included so that you can call a tow truck or a friend to pick you up.
In some cases, you may be able to get yourself moving again. A small tool kit should be equipped as well, plus a small shovel. Jumper cables are also important, as well as road flares to make sure that everyone can see you.