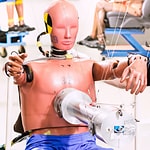 Grand Junction, CO drivers have high standards when it comes to purchasing a vehicle, and the Modern Classic Motors team strives to meet those standards. One of the main things our customers tell us they look for in a car is safety. However, consumer safety ratings can be kind of confusing. To make things clearer, we've put together a quick guide to understanding vehicle safety ratings.
There are two groups the auto industry counts on for rating vehicles. They are the Insurance Institute of Highway Safety (IIHS) and the National Highway Transportation Safety Administration (NHTSA). Each measures different aspects of vehicle safety.
The IIHS rates vehicles as good, acceptable, marginal, or poor. They look at a vehicle's ability to prevent crashes and how well it can withstand impacts that occur in order to determine quality and performance standards. The NHTSA rates vehicles on a five-star scale based on how well they withstand front, side, and rollover impact tests.