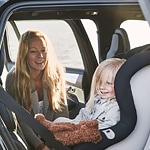 Child safety is extremely important when driving on the road in Grand Junction, CO. Here at Modern Classic Motors, we're going to help you learn about LATCH restraints and how to comprehend what LATCH evaluation ratings mean for your car.
To begin, it's important to recognize that LATCH, or Lower Anchors and Tethers for Children, is a system of restraints that are designed to make safety seat installation easier. The LATCH evaluation measures accessibility, the installation angle, and the force required to attach a child safety seat. Therefore, a LATCH evaluation rating is not a pure indicator of safety.
Even though LATCH evaluations don't rate the child safety features of your car, the ease of installation can affect how well you secure a seat in your vehicle. If LATCH restraints are hard to install, it can make it more difficult for you to fasten a car seat properly. As such, a "Good" rating on a LATCH evaluation can help you ensure that your child's safety seats are installed correctly.